5 small islands around Kos you must visit this summer
Island-hopping in the Aegean is a bucket list experience, and Kos serves as the perfect starting point to explore the small islands around it. There are numerous boat cruises and destinations to choose from, and the cost is affordable. Just get on board and let the adventure begin!
Pserimos
How to get there: From Mastichari or Kos town
Pserimos is a popular one-day trip from Kos. The cruise-boat will disembark you at Avlakia, the only inhabited village on the island, which features a beautiful serene beach with white sand. If you have the urge to explore more, follow the uphill path that starts from Pserimos' harbor and leads to the beautiful beach of Panagia Grafiotissa, where a small white chapel is built right on the beach. The view all along the trail is fantastic!
Platy
How to get there: From Mastichari or Kos town
Platy is usually part of the three island tour that also includes Kalymnos and Pserimos. It's a small uninhabited island with pristine blue waters, perfect for swimming and snorkeling. If you're lucky enough, in the sea area between Kalymnos and Platy, you'll see dolphins!
Nera
How to get there: From Mastichari or Kos town or via Kalymnos
This small uninhabited island is very close to Kalymnos, across the village of Vlihadia. Apart from its few small beaches, there's not much to see in Nera: just the picturesque Church of the Holy Cross. But you can enjoy swimming in the island's clear blue waters and pretend you are a castaway on a deserted island!
Nisyros
How to get there: from Kardamena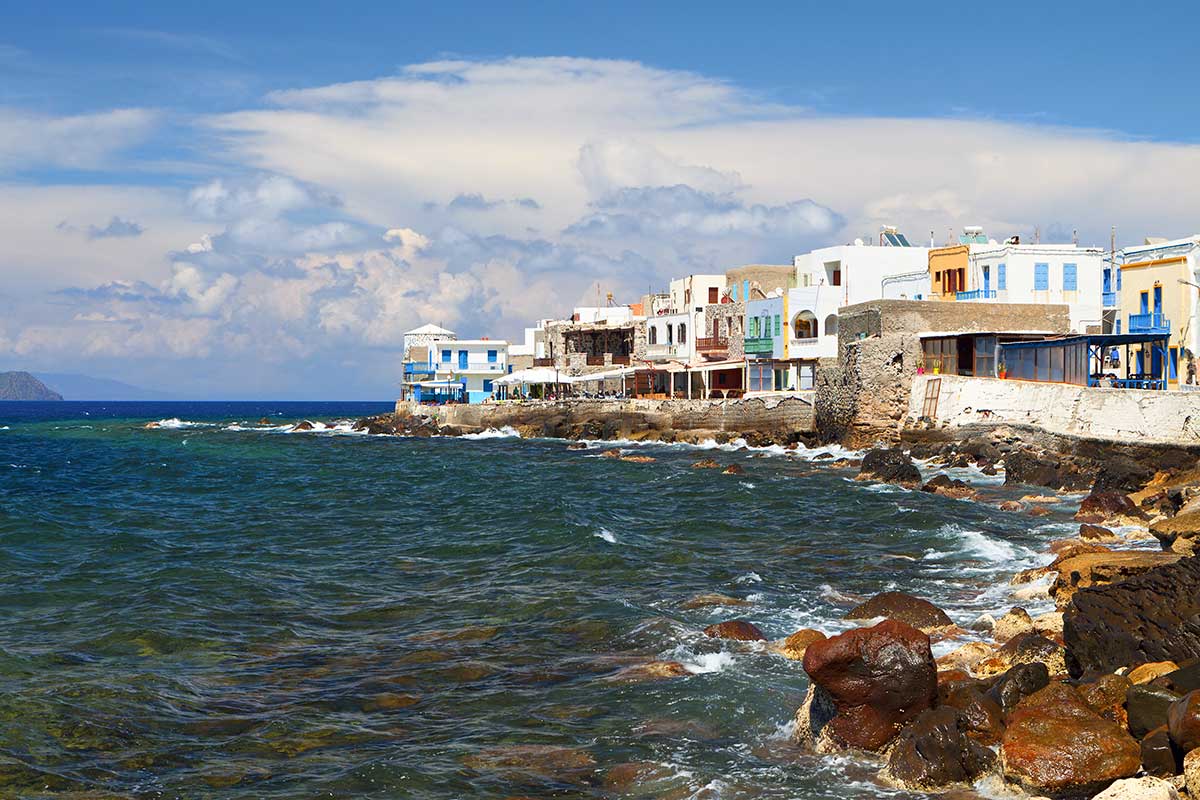 Nisyros is a perfect destination for a one-day excursion from Kos. Visiting Nisyros sleeping, yet active, volcano that lies in a lunar landscape, is a bucket list experience, but there is more to explore on the island. Visit Mandraki, Nisyros capital and take a stroll in its narrow streets, and ascend to the highest point of the settlement to visit the Monastery of Panagia Spiliani and enjoy the panoramic view. If you have time to take a swim, you can go to Chochlaki beach, which is close to Mandraki and is famous for its volcanic pebbles.
Tilos
How to get there: from Kos town or Kardamena
Tilos is ideal for a day-trip from Kos. The island is a protected eco-park because of its diverse ecosystem and has picturesque villages as well as enchanting beaches. This is where Europe's last elephants lived: dwarf elephants appeared on the island 45,000 years ago and became extinct 4,000 years ago. Visit Megalo Chorio, the capital of the island, to admire its unpretentious architecture and see the exhibition of elephant fossil bones excavated at the Charkadio cave. Then ascend to the top of the hill to see the view from the medieval castle. It is also worth visiting Livadia and Mikro Chorio and explore the abandoned settlements scattered in the island.