Day Trip to Nisyros – Laid Back Lifestyle and Volcanoes
Nisyros is best visited in August to attend the celebrations that mark the patron saint of the island, Panagia Spilianis (Virgin Mary of the Cave) on August 14 and 15.
Inside the church, which is open year round, you can admire beautiful frescoes and offerings, and a collection of ecclesiastical relics. The church has a library with rare editions of religious books. To visit the church dress appropriately: covered shoulders and long dresses for women (no pants), and long trousers for men. The monastery dates from the XV century and is located above the charming capital of the island, Mandraki.
If you are not religious, however, Nisyros is famous for its volcano, with five craters on the island. The volcano is active, but not erupting (its last eruption happened in 1888). Legends describing the birth of the island are no less fascination: some say that Nisyros was the rock used by Poseidon to crush the giant Polyvotis and the fumes of the volcano are the giant's breath, who tries in vain to escape. According to other legends, when Poseidon caught up with Polyvotis on Kos he impaled him with his trident, causing the island to split, thus generating Nisyros.
Beyond legend, the island of today is known as the site of the largest hydrothermal crater in the world, Stefanos, which is also the largest of the five craters of the volcano. The other craters are called Andreas, Logothetis (the oldest crater in the area), the Polyvotis, and Alexander. A visit at Stefanos is one of the most rewarding things to do on the island and a popular pastime for tourists. The crater is oval, with a shaft of 330 meters and a height of 30 meters, hot springs and bubbling mud pits. Alternatively, you can visit the youngest, and smaller crater, Polyvotis, which is close to the monastic complex of the Holy Cross, celebrated every September 14.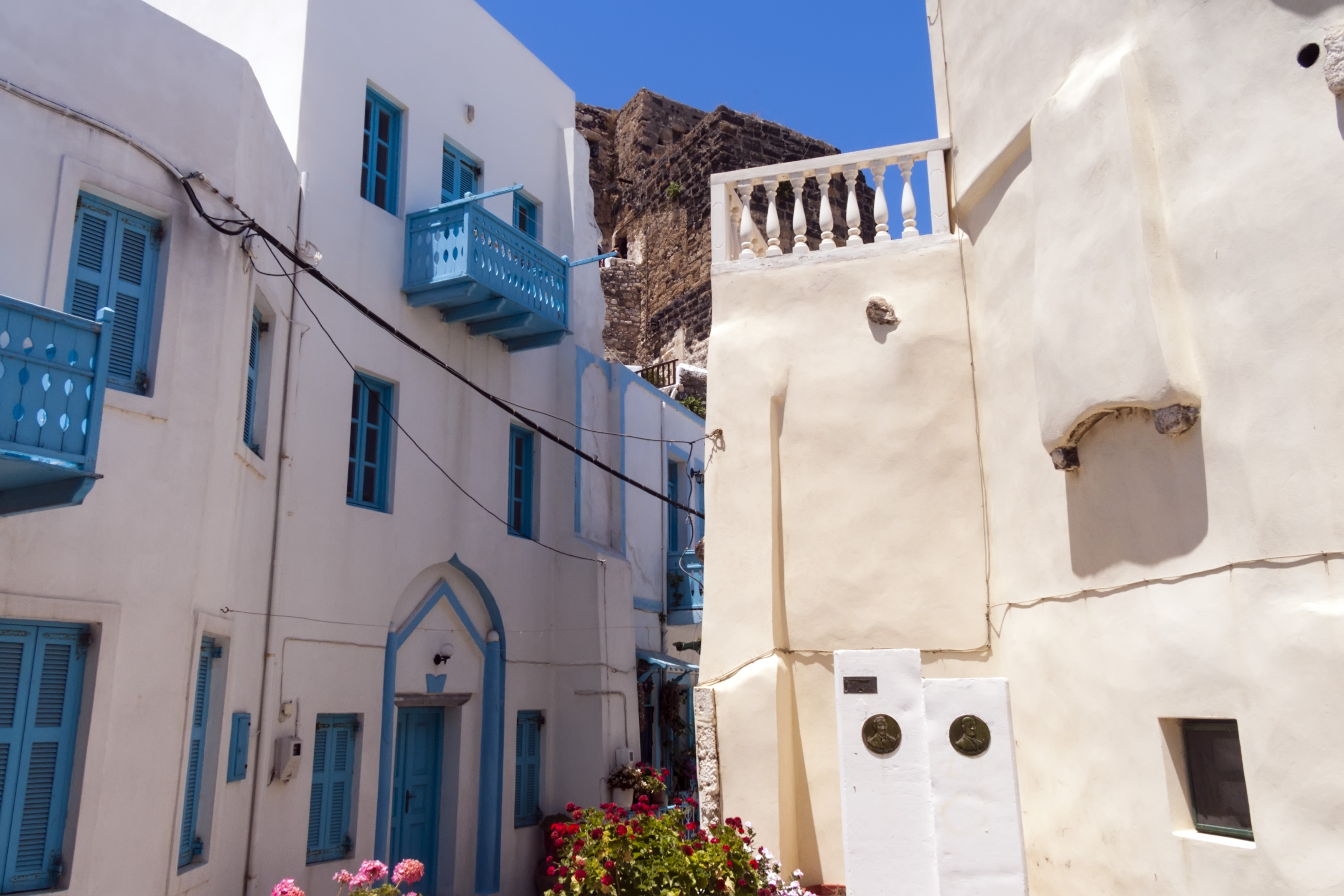 In Mandraki you can admire the local architecture and authentic lifestyle. Visit the shops to buy icons and religious artifacts, or local wine. For cuisine, any tavern will do if you want to sample the specialties of the island: pork cooked in fat, stuffed goat, and others, like the famous Nisyros cheese. Don't forget to try the local figs and the traditional beverage koukouzina, which is similar to raki.
Although small, Nisyros boasts several other interesting attractions, as well as small and idyllic shores with some sandy beaches. History buffs can visit two museums in Mandraki: the Archaeological Museum housed in Giannideio Estia, near Heroes Square, and the Folklore Museum of Nisyros in a renovated cottage, on the steps to the Monastery of Panagia Spilianis. The ancient citadel of the island, Paleokastro, is well preserved and quite a sight for visitors. Don't miss the Municipal Hot Springs before you leave the capital of Nisyros.