Five Delicious Greek Vegan Dishes to Tempt the Palate
For vegan enthusiasts among you fretting over the limited vegan restaurant choices in Greece, fear not. There's a lot more culinary joy to look forward to than Greek salad without the feta. The Kos local cuisine is surprisingly vegan-friendly. Here's a short list of dishes to look forward to during your visit to this Dodecanese paradise.
Briám
An oven-baked dish made with potatoes, zucchini, and other vegetables like eggplant and tomatoes, briám is a favorite in most of Greece actually. For those of you familiar with ratatouille cooked with summer vegetables, the Greek version is similar although it consists of more generous portions of olive oil, onions, and Greek herbs. Most people find the Greek style more aromatic and a bit less buttery-greasy than the French variant. Also known as briami, the dish is similar to other international staples, like the Spanish Pisto and Italian Caponata.
Dolmades
This ultra-popular dish consists of vine leaves wrapped around rice and herbs. Dolmades are a Greek staple, popular all over the country. They are also famous in Middle Eastern cuisine. Served in most Greek restaurants, these stuffed little rolls are tasty hot or cold, and especially with a drizzle of lemon juice. They're usually served as appetizers or meze-style on Kos.
Fava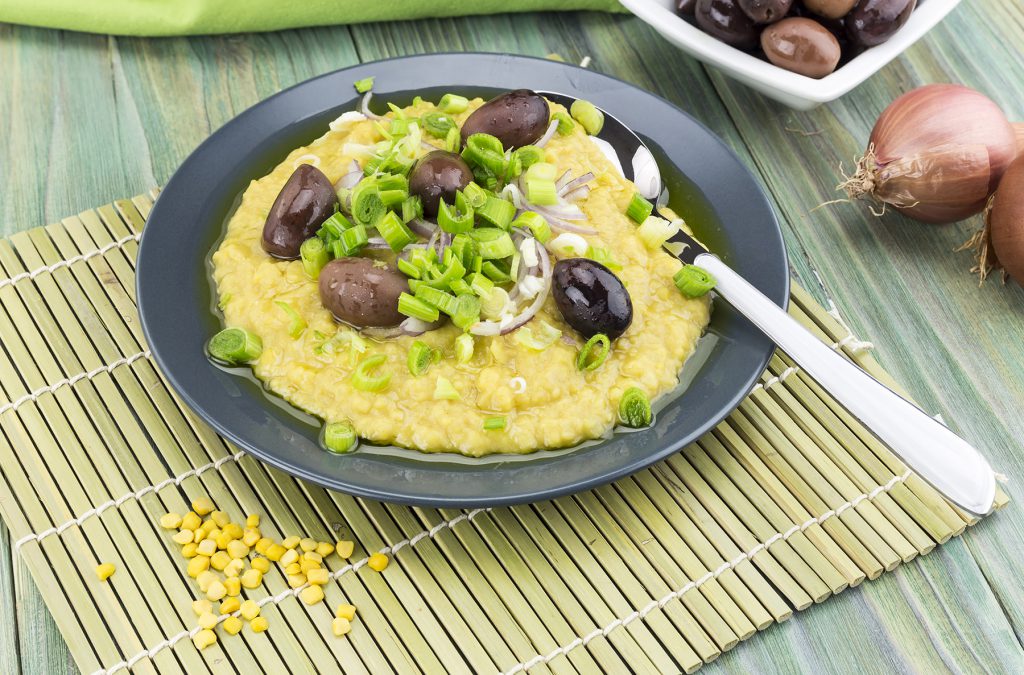 A specialty of the Greek isles, this appetizer is a creamy dip made – not from fava beans as the name might mislead you – but from yellow split peas. Fava is most associated with Santorini and its volcanic soil. It looks a lot like hummus, and it is similar in texture, but the taste is more neutral and lighter. The dish is usually served meze-style and can be enjoyed as a dip or as a spread.
Gigandes Plaki
This baked bean dish is made with savory herbs and tomato sauce. Traditionally, the Gigantes beans are slow cooked until perfectly tender. Then, they are placed in the oven with garlic, onion, tomato sauce, and herbs to bake for approximatively two hours. The beans are usually served with rusks or toasty bread, making the dish a perfect vegan meal addition or snack. Non-vegans sometimes enjoy them with a sprinkle of feta cheese.
Spanakopita
These savory pies can be found at just about any taverna or cafe on Kos. A staple of the Greek diet, the spinach filled versions without cheese are a vegan's delight, a great way to make sure of your intake of leafy greens while traveling in Greece. You'll also find the Horta filled versions delectable with a bit more bite than the spinach ones.