Kos Beaches to Suit all Tastes
Blessed by an ideal position on the Aegean Sea to offer visitors a long summer and the chance to stroll on the beach, and even go for a swim in the offseason, Kos has beaches that suit all tastes.
Travelers passioned about adrenaline-filled and challenging watersports like windsurfing, kitesurfing, water skiing, and wakeboarding, will find excellent conditions to practice on Kos. Divers will appreciate the richness of the marine fauna of the Aegean Sea. Families with little children will find safe beaches to rest and play. There are even beaches for those who prefer the rugged beauty of seclusion.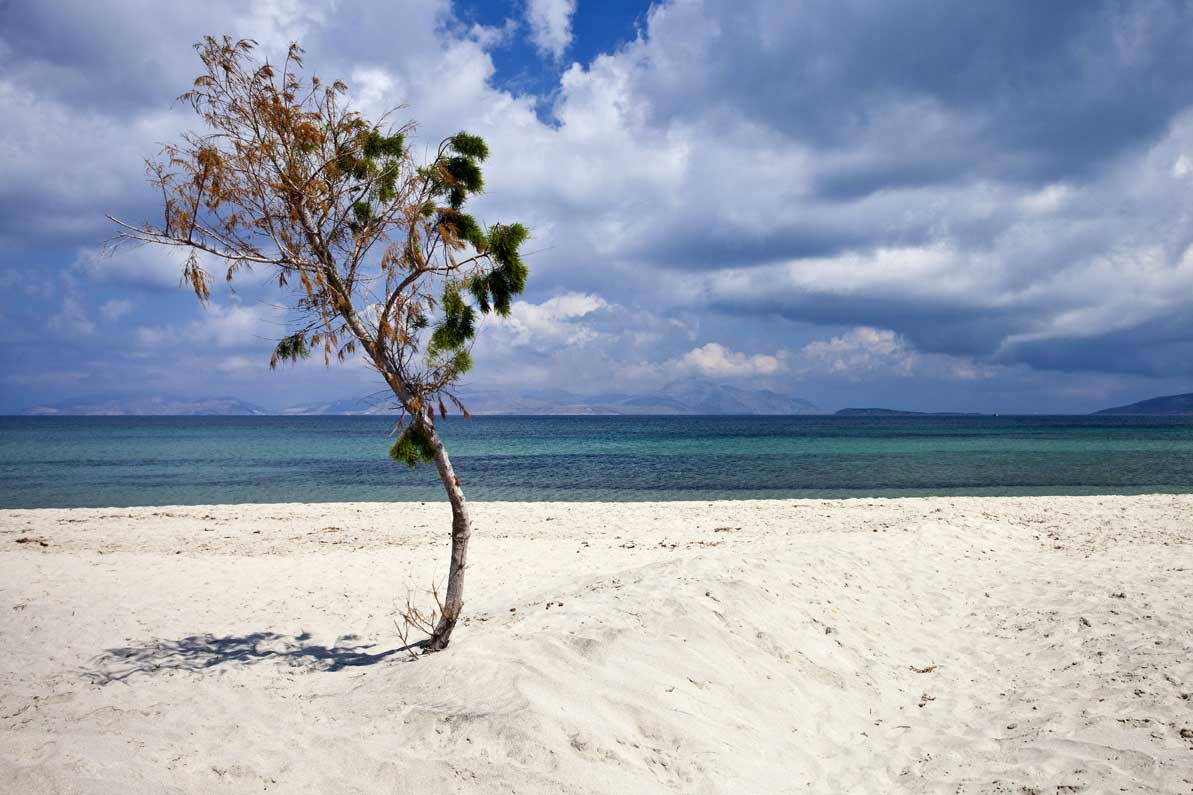 Tigaki Beach (11 km west of Kos Town)
Tigaki, the home base of Astir Odysseus Kos Resort & Spa, is a long, sandy well-organized beach, offering excellent swimming and sunbathing conditions for all. It stretches about 10 kilometers on the northern coast of the island. It can be easily accessed from many hotels in the area. It is usually favored by families with children, because it is safe and conveniently close to all kinds of shops and tavernas. Beachgoers who prefer peace and solitude will find the western side of the beach more appropriate for their taste. Available water sports include jet-skiing and recreational sailing, among others.
Agios Fokas (8 km southeast of Kos Town)
Agios Fokas is a volcanic beach with crystal clear waters the little ones will enjoy as they can observe the fish swimming around. Because it's a cove beach, the sea is usually calm here – perfect for safe swimming. Agios Fokas Beach Club here provides free chairs and umbrellas, but you need to order something from the bar. Outside the club, the beach is not organized, but there's enough room for you to set up your base station with your beach towels and umbrellas. The other organized beaches belong to hotels and they are private, exclusively for hotel guests.
Agios Stefanos (35 km south of Kos Town)
Agios Stefanos is a lovely beach in the south of the island, close to Kefalos. It is one of the most scenic and photographed beaches of Kos. Ideally located in the Kamari Bay, it overlooks the Kastri Islet with its lovely little chapel. You can either swim to the islet or rent a paddleboat or a jet-ski to visit it. Next to the beach, you will find the ruins of an old Christian temple, free to explore. It's a family-friendly beach with fine white sand and pebbles.
Camel Beach (30 km southwest of Kos Town)
Not far from Kefalos, Camel Beach is a scenic, picturesque, small and secluded beach, surrounded by rocky hills. It's a sandy and pebbly beach, but you may need to wear swim shoes because the bottom of the water is rocky, uncomfortable to step on. This is a delightful spot for people seeking seclusion. There are two restaurants nearby, and a few sun loungers with umbrellas available for rent. Parking is available close to the beach.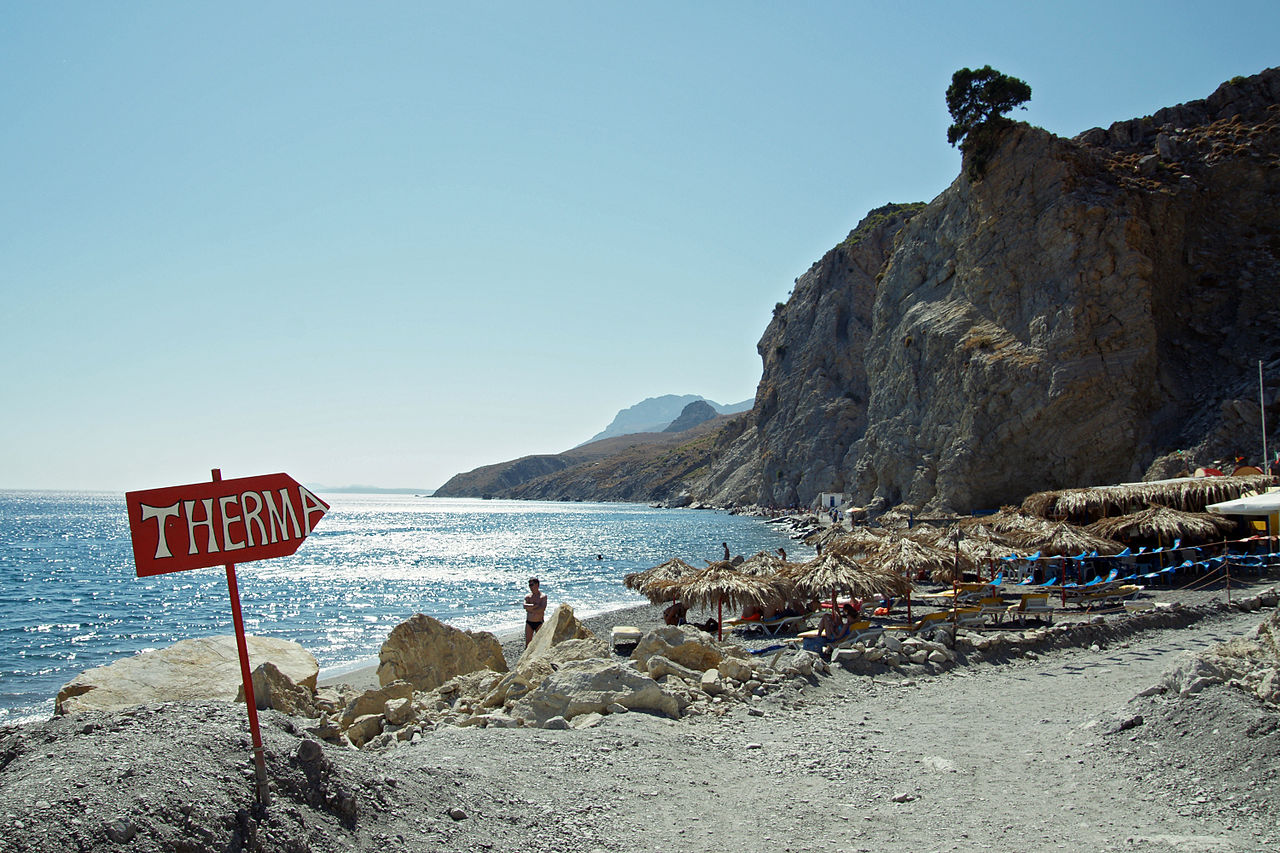 Empros Thermi Beach (12 km south of Kos Town)
The Empros Thermi Beach is in Agios Fokas. It is one of the top things to see when you visit Kos. It is considered a health tourism destination. The thermal sea water here (30°-50° C) is rich in sulfur and minerals that benefit the body. The beach itself is small and crowded, especially in high season.
Faros Beach (5 km north of Kos Town)
Faros Beach starts at the northern point of Kos, offering beautiful views across the sea to the coast of Turkey. It is a long beach, stretching for several kilometers towards Lambi. It has fine, white sand, and plenty of room to relax. It is an ideal destination for people who prefer peace and quiet. There's also a dune area here, made of fine sand, just like the beach. Unfortunately, there are some areas of the beach that are not well taken care of: the trash spoils the picturesque views and is off-putting. The beach is named for the lighthouse nearby. The waves here are usually large, so bathing conditions are not ideal.
Kamari Beach (45 km southwest of Kos Town)
Kamari Beach is a well-organized beach – just outside Kefalos, near the small port of Kamari. It has crystal clear water, perfect for swimming. It is also a magnet for watersports lovers, offering SUP, recreational sailing, and windsurfing, among others. There are several tavernas by the beach, famous for their fresh fish specials.
Kardamena Beach (30 Km south west of Kos Town)
Kardamena Beach is one of the top Kos beach destinations for lovers of watersports including windsurfing, parascending, wakeboarding, jet skiing, recreational sailing, and much more. It's a long, sandy beach, with plenty of room to relax and play. A daily excursion takes visitors to Agia Irini, which is famous for its thermal springs.
Kefalos Beach (40 km south west of Kos Town)
Well-organized and offering spellbinding views of the Kastri Islet, Kefalos Beach attracts lovers of watersports (windsurfing, recreational sailing, paddle boats, etc.) as well as families with children. It is a sandy beach with clean water, excellent for swimming. Many tavernas are offering fresh food and refreshments along the beach.
Lambi Beach (3 km north of Kos Town)
Lambi Beach is a continuation of the city beach of Kos Town. It is well-organized, offering plenty of beach chairs and umbrellas, as well as many tourist facilities, including showers and changing rooms. Lovers of water sports will find plenty to do here too: jet skiing, water skiing, parasailing, windsurfing, paddle boats, snorkeling, and much more. There's plenty to see around the beach too, as it is close to the harbor of Kos and the Roman Odeon.
Marmari Beach (20 km south west of Kos Town)
Marmari Beach is one of the top destinations for windsurfing and kitesurfing on the island of Kos. It is a long beach with fine, white sand, set against a beautiful natural background, with small dunes and typical vegetation. There's plenty of room on the beach to bring your beach towel and umbrella if you travel on a budget. Alternatively, you can rent a sunbed. If you prefer a relaxed atmosphere, the beach is ideal in high-season, when other beaches on Kos are very crowded.
Mastichari Beach (27 km south west of Kos Town)
Mastichari Beach starts at the harbor of the village of Mastichari and stretches a few kilometers along the coast. It is well organized, with plenty of loungers and umbrellas to rent, plus a watersports center offering windsurfing, kitesurfing, kayaks, and other water sports lessons and rentals. Mastichari enjoys pristine nature – there's a network of small dunes with typical vegetation to explore. Parts of the beach are not organized – they are preferred by travelers seeking quiet and privacy.
Paradise Beach (30 km south of Kos Town)
Not far from Kefalos, Paradise Beach lives up to its name. Some even consider this the most beautiful beach on the island. It is located in an idyllic bay, with white sand and azure waters, perfect for swimming and snorkeling. Watersports lovers will find pedalo boats, jet skis, boat rentals, and much more. Sun loungers and umbrella rentals are available too, but you will also find room to sit on a beach towel if you prefer to save your money for something else.  On one side of the beach, volcanic gases from the neighboring Nisyros Island make bubbles in the water – an attraction for many swimmers and a reason why Paradise is sometimes called "Bubble Beach."
Psalidi Beach (3 km southeast of Kos Town)
Psalidi Beach is a popular windsurfing and kitesurfing destination. It is also favored by divers and lovers of watersports like jet skiing, canoeing and kayaking, parascending, and more. A diving club offers lessons and diving trips too. The beach is well organized, split into several areas, each with different features – including private enclosures controlled by hotels and resorts. It is a Blue Flag, family-friendly beach, with excellent conditions for swimming, playing, relaxation, and entertainment.