Meet Our Double Sea View Rooms
The Double Sea View Rooms are the second most affordable accommodation choices at Astir Odysseus Kos Resort & Spa.
Who wouldn't like to take in the views of the sea from a cozy terrace, sipping a glass of white wine, or eating a slice of juicy watermelon harvested from out very island? You could hardly be closer to the sea. From your balcony the Aegean stretches in infinite azure, as the breeze caresses your skin, pampering your senses.
Inside, the decor is pleasantly bright, with white and light grays adding a plus of elegance to the natural wood of the floors. Designer furnishings selected to harmonize with each other, enhance the sophisticated, yet understated posh ambiance.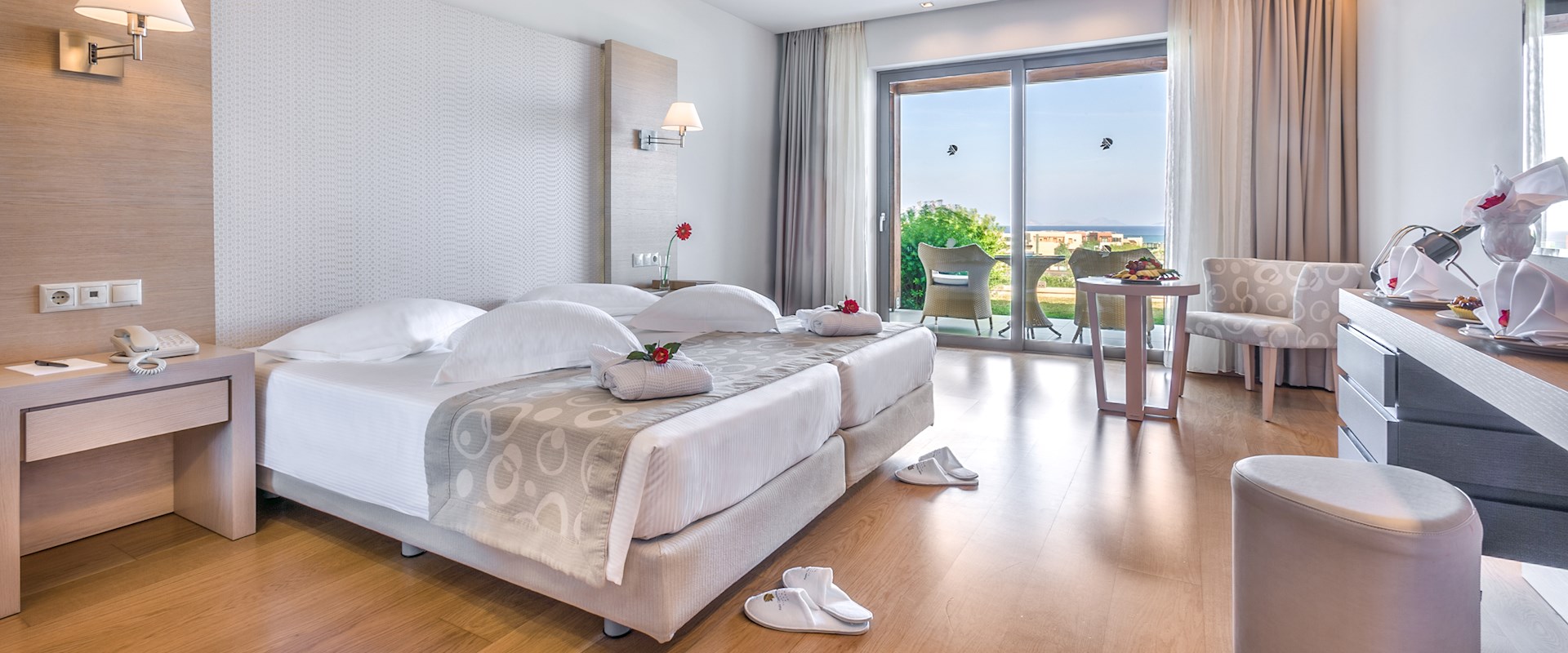 Beyond the decor, other in-room amenities will ensure that your stay with us is as comfortable as possible. A large satellite TV allows you to catch with the news, the telephone in the room has direct international access, so you don't need to call the reception if you want to talk to your friends and relatives abroad. WiFi internet access is complimentary, of course.
You can prepare coffee, or tea, in your room at any time of the day. A mini bar stocks snacks and drinks for those moments you crave for something, but you do not want to leave the hotel. Each room is fully air-conditioned, with individual devices, which allow you to set the temperature as you desire.
Luxurious bathrooms are equipped with high-quality cotton towels and premium natural toiletries, including soaps and shampoo.
The Double Sea View Rooms (28sq.m.) can accommodate up to three guests – they are perfect for families with one child, or for friends traveling together. They usually have twin beds, but you can also have a king size bed if you tell us in advance.