What Is it Like at the Top of Mount Dikaios?
Kos is mountainous because long before the Dodecanese chain was separated into tiny islands by earthquakes, it was part of the Hellenic–Tauric system, a complex mountain belt that included the volcano of Nisyros, Kalymnos, and Kappari, which are all now stand-alone entities. Mount Dikaios, sometimes referred to as the Dicheo Massif, an important point of interest for mountaineers on the island.
Mount Dikaios can be easily reached from Astir Odysseus Kos Resort & Spa – the drive to the municipality of Dikaios takes less than 15 minutes, but you'll have to keep on driving, five more minutes, till you reach Lagoudi-Zia, because the trail that will take you to the summit of the mountain begins here.
Hikers who reached the top of Mount Dikaios described the views in superlative terms. It's not a long hike: from the right side of the bus parking lot in Zia to the summit there are about 4 km – usually a 3-hour hike. The site Aegean Islands has a full description of the route:
The trail begins at Zia, more specifically at the right side of the bus parking lot. After leaving the village with its gift shops behind, you will pass by a watermill and a taverna and turn right at the two next crossroads. Then you will come across a sign illustrating the route towards the top of the mountain (using blue markers). Read more…
Early summertime is the best time to hike the mountain, on a route starting from Zia village, up to the summit where you will find the Church of Christos Dikaios (Christ the Righteous), also known as the chapel of the Transfiguration of Jesus. If you plan a whole day on the mountain, carry plenty of water and food as there are no resources on the route. Comfortable shoes and clothing to keep you warm at night are also a must.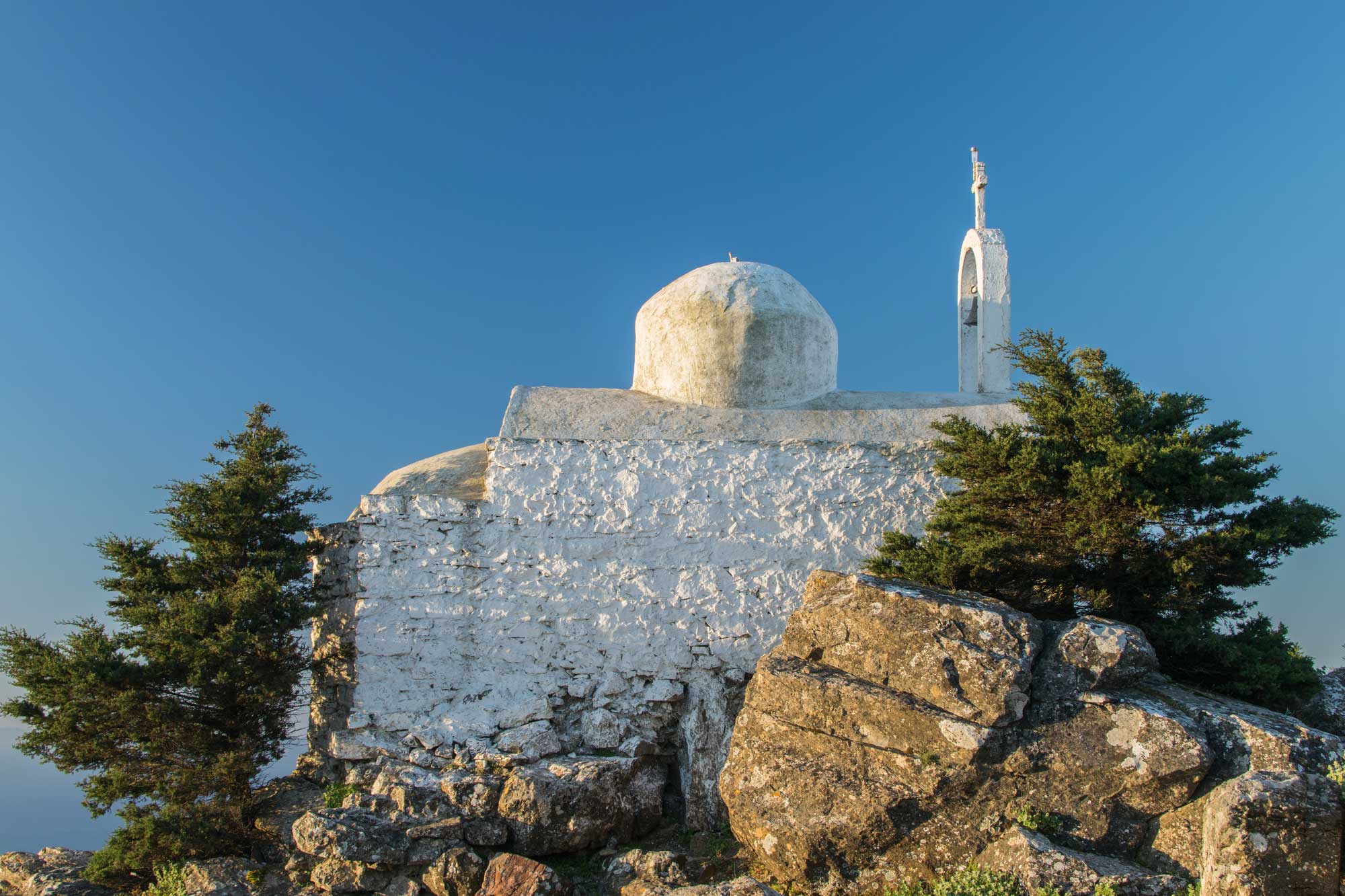 The peak of the mountain is named after this chapel, where every August 5 you can attend a traditional local festival. You can join the locals and spend the night. But if you don't want to hike, stay in Zia. It has wonderful sunset views too, and it's lovely with its walnut groves and thematic Greek nights in the traditional village.