10 years of Excellence and Memories: Astir Odysseus Anniversary Party
2019 marks the 10th year of operation for Astir Odysseus. The completion of "10 years of Excellence" is a benchmark that calls for a major celebration!
On 23 June, Astir Odysseus celebrated its 10-year successful operation with a special anniversary party that had it all: upbeat music by a DJ, fresh cocktails, magic fireworks, a full buffet, and special guests.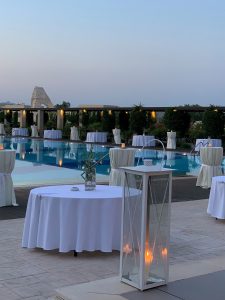 Right next to the iconic central pool of Astir Odysseus, the team and management of the hotel welcomed business partners, tourist agents, representatives of the local authorities of Kos, people from Kos, and of course the hotel's guests, to an amazing night. In his speech, George Vassilopoulos, Astir Odysseus' general manager, thanked everyone attending the event, and especially the hotel's employees for their excellent work and co-operation throughout all these years.
As the anniversary party continued, everyone was in high spirits, dancing and singing and socializing. A night to remember – but more are yet to come at Astir Odysseus!
*You may have missed the party, but our Facebook contest for the "10 Years of Excellence" is still on! Share your Memories and Win a 5-Night Stay at Astir Odysseus!