Dining at Astir Odysseus Resort & Spa: A Delicious Experience for Every Palate
When you stay at Astir Odysseus Resort & Spa, you will have a memorable dining experience every day. A rich buffet in the main restaurant offers you all-you-can-eat local and international dishes: choose what you love, try something new, and make your lunch and dinner menu every day. Alternatively, you can opt for an à la carte dining experience that will reveal the mastery of our chef, all while you enjoy comfort and atmosphere in a chic setting. So without further ado, here are the venues that will make your dining experience at Astir Odysseus Resort & Spa way above and beyond your expectations.
1.  Achilles: The Main Restaurant of the Resort
Achilles – named for the legendary Greek hero of the Trojan War – is the main restaurant at Astir Odysseus Resort & Spa. Here you will enjoy meals in an all-inclusive regime, and you can mix and match your menus as all the dishes are buffet-style and all-you-can-eat. Try a crunchy salad, choose from the variety of grilled meats, pick your favorite from the warm mains, and end with a delicious dessert, fruit, or cheese.
2.  Argo Waterfront Taverna
Named for the legendary ship that carried Jason and the Argonauts to Colchis to retrieve the Golden Fleece of the winged ram, Chrysomallos, Argo offers a romantic setting for a dining experience like no other. Take in the mesmerizing views of the Aegean Sea and let the breeze play with your hair. Naturally, the food will be the highlight of your dining experience at Argo Waterfront Taverna: all traditional Greek dishes, crunchy salads, melt-in-your-mouth appetizers and mains, all paired with exceptional local or international drinks.
3.  Ithaka à la Carte
Named for the ancient town and the Greek island in the Ionian Sea, Ithaka à la Carte serves up the best of the Greek cuisine in a setting that will sweep you off your feet. Sure, the chef put together an inspiring menu full of Mediterranean and international delights fit for VIPs. So dress to impress and dine in style: enjoying dinner at Astir Odysseus Resort & Spa's Ithaka à la Carte restaurant is truly a delicious experience.
4.  In-room Dining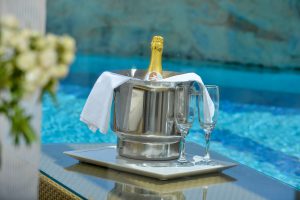 Grab the menu and dial room service: Have a delicious, intimate dining experience on your terms when you stay at Astir Odysseus Resort & Spa. Only select, fresh ingredients make your meal: in-room dining is as good as à la carte dining, with the only difference that it is as intimate as you want it to be.
5.  The Bars
Nothing completes a luxurious dining experience better than good libations, and the bats at Astir Odysseus Resort & Spa don't disappoint. First, head to the bar for coffee, cold brews, refreshing juices, or exotic cocktails. Then, enjoy their laid-back atmosphere, live music, shows, and parties. Summer on Kos island just got better!
As you see, Astir Odysseus Resort & Spa is more than accommodation: your holiday on Kos island must be complete for a maximum level of enjoyment and relaxation. The foodie moments you will experience in our restaurants are way beyond delicious: they are also picture-perfect, designed for your palate and your Instagram feed.