The Sea Daffodil (Pancratium maritimum) on Kos Island
The elegant and fragrant sea daffodil flowers on the coastal dunes of Kos Island from August until October. Known under several different names, including sea lily, sand daffodil, sand lily, lily of St. Nicholas, lily of the coast, and its Latin name, Pancratium maritimum, the plant more likely developed during the Miocene geological epoch. Unfortunately, tourism development across the Mediterranean coastline makes the sea daffodil endangered in its natural habitat and a protected species.
The Minoans knew the sea daffodil, and it probably had a religious significance together with the double axe and sacred horns on Crete island. A visual representation of the plant was discovered in the Knossos Palace in 1896 by British archaeologist Sir Arthur John Evans.
Between 1967 and 1974, Professor Spyridon Marinatos discovered the wall paintings of ancient Thera (in Santorini) during excavations at the Akrotiri archeological site. Among these, a striking landscape of flowering lilies and kissing swallows.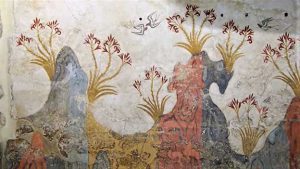 Spring Fresco in the Building Complex Delta at the Archaeological Site of Akrotiri of Thera.
These examples demonstrate that the sea daffodil was a presence in the Minoan culture since ancient times. Today, the plant is still cherished for its beauty, but also for its fragrance and scientific study, as it attracts the interest of botanists from all over the world.
Scientifically, the sea daffodil is a species of evergreen bulbous plant from the Amaryllidaceae family (Tribus Eucharideae). Its flowers are herkogamous, with a sweet lily aroma, and its leaves appear after the flowers have opened. The seeds are black and lightweight, spreading easily with the breeze. The sea daffodils multiply through bulbs, stolons, and seeds. Their flowering season varies from region to region, but for the Dodecanese islands, it is typically from July, with the peak in August and can last up to early October.
You will find sea daffodils growing close to the coast, in easily draining sand that is rich in organic substances that feed the plants.
When you visit Kos late in the summer, you can see the elegant white blossoms of the sea daffodil across the coastline on the beach of Mastichari, less than thirty minutes drive from Astir Odysseus Kos Resort & Spa.