What to eat at a Greek "Psarotaverna": Greek fish explained
Fish lovers will discover a culinary paradise on Kos island. The Aegean Sea offers a great variety of fish and seafood, while the Greek cuisine includes several different fish-based recipes. Fresh fish is often on the menu of Astir Odysseus restaurants, and according to our Executive Chef, these dishes are among the most popular for our guests.
A visit to a local "psarotaverna" (taverna specializing in fish) is a highly recommended gastronomical experience you shouldn't miss. The catch of the day is displayed in a glass case giving you the opportunity to personally pick the fish of your preference, while the menu is full of… surprises! Most likely the majority of fish names will sound-Greek-to-you, so here's our guide with the basic fish and seafood you 'll find at the menu of the average Greek psarotaverna, and some tips on how to eat them.
Atherina
Atherina (Αθερίνα) is a tiny fish species (on average 8-10 cm long) with a sharp muzzle, and it is similar to marida (see below). Atherinas live in surface waters and they feed on plankton. Atherina fish are floured and then fried. You consume them whole, like potato chips! Tip: they taste great with tzatziki.
Gavros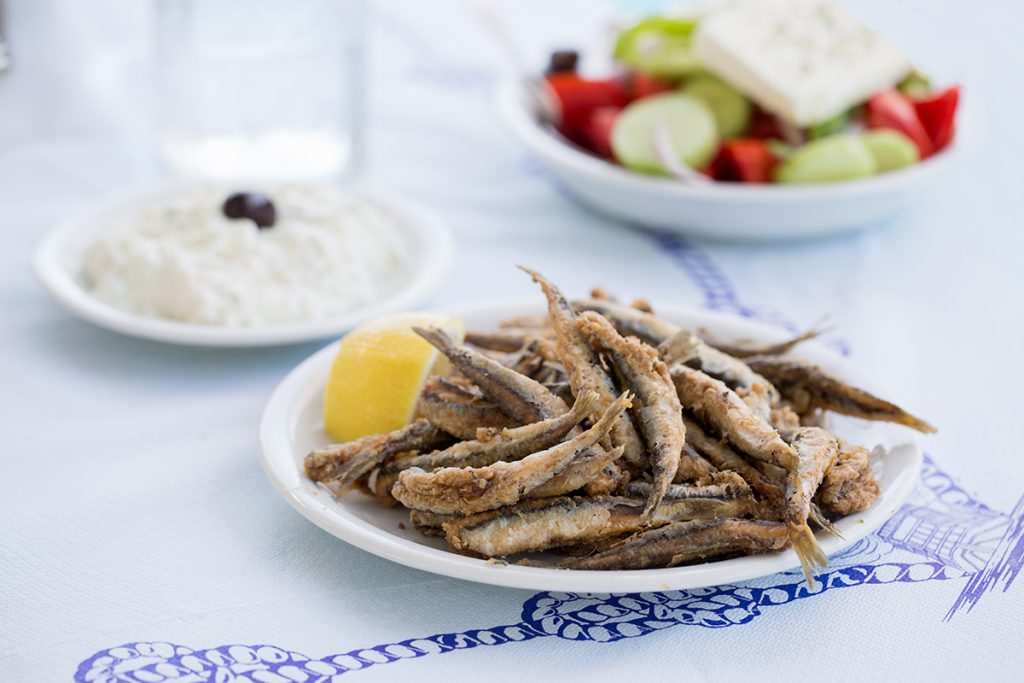 Gavros (Γαύρος) is another small species of fish, really popular among Greeks since it is abundant and inexpensive. Usually it is served fried or marinated in vinegar (gavros marinatos) and it's a great "meze" to pair with your glass of ouzo.
Achinos
Achinos (Αχινός) which you probably know as sea urchin, is a spiky black animal living on rocky seabed in the shallow waters. In case you see some while swimming please avoid stepping on them (it's quite painful!). Achinos is consumed raw, with some drops of lemon juice. It has a very strong taste of "sea", similar to caviar.
Barbouni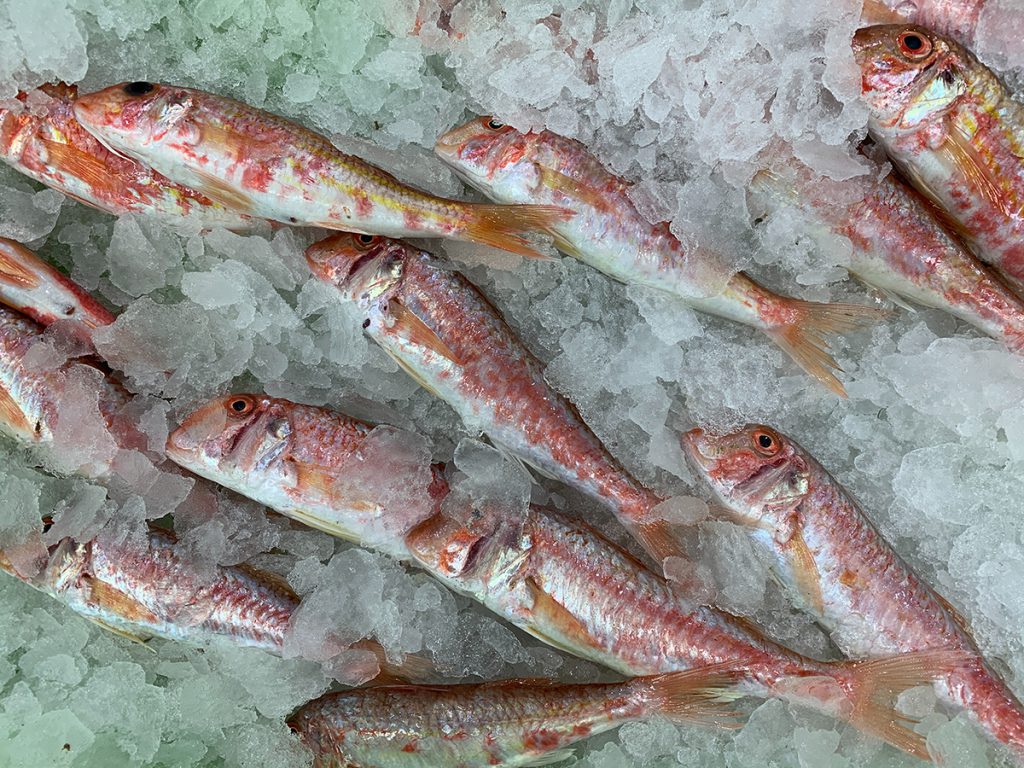 Barbouni (Μπαρμπούνι), aka red mullet, is small pinkish fish with a very delicate taste. Usually barbouni is dipped in flour and then fried. It's quite popular in Greece but it's a bit expensive as well.
Fagri
Fagri (Φαγκρί) or seabream is a large fish with a silvery-rose color. You'll enjoy fagri grilled, served with ladolemono (a mix of lemon and olive oil) or in psarosoupa (fish soup). Fagri is very tasty – but also quite expensive.
Marida
Marida (Μαρίδα) is another small fish species with a silvery color, quite common in the Aegean Sea. Their English name is picarel. Marida fish live in shoals, in sandy areas. Floured and then fried, they are consumed whole (especially the little ones) and are a tasty meze to pair with ouzo.
Sardela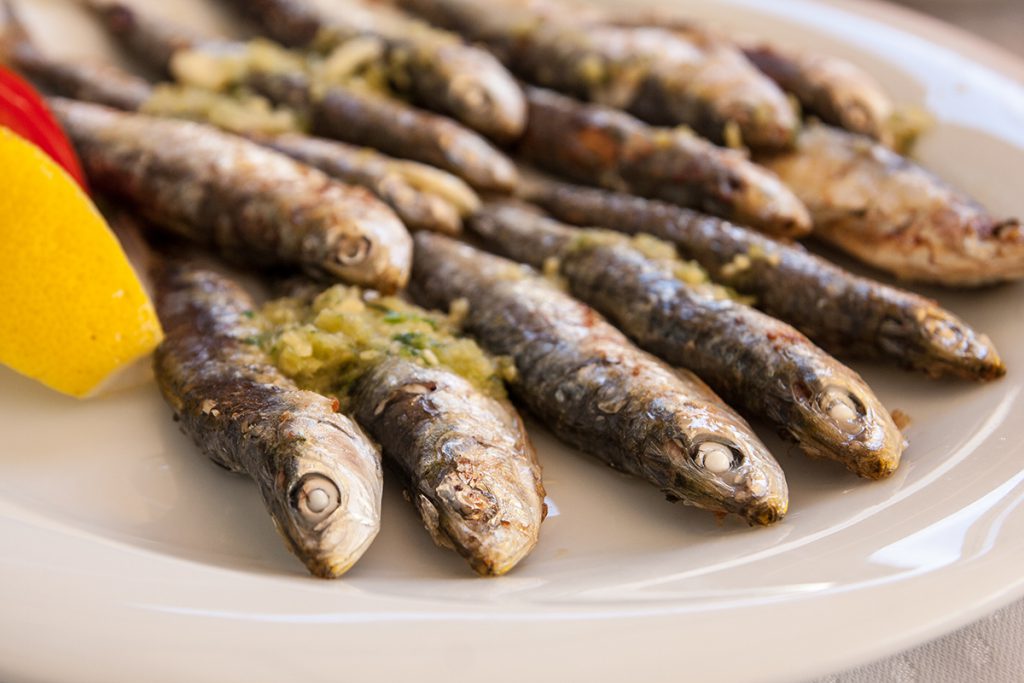 Sardela (Σαρδέλα) is the Greek word for sardine. In contrast to the sardines of the Atlantic Ocean, the sardeles of the Mediterranean are much smaller in size. This small silvery fish is a common appetizer in psarotavernas, offered fried, or grilled, or even baked in the oven with garlic, tomato and parsley. Sardela is affordable but also really tasty and healthy, full of omega-3 fatty acids.
Sfirida
Sfirida (Σφυρίδα) known as white grouper is one of the most expensive Greek fish. You may enjoy it grilled with ladolemono (lemon juice and olive oil) or boiled in a fish soup (psarosoupa).
Taramas
Taramas (Ταραμάς) also known as taramosalata is a special delicacy you should definitely try at a psarotaverna. It's a creamy and salty dip, with a rich fishy flavor. It's made with fish eggs, olive oil, lemon juice and bread. Just spread some on a slice of crispy fresh bread and enjoy!
Kalamari
Kalamari (Καλαμάρι) is very popular in Greek fish tavernas. The Greek kalamari is on average 20cm long and has a mild taste. It is either fried in slices, or grilled, or even stuffed with rice and herbs – don't hesitate to taste all these dishes, especially when you know that the kalamari is fresh. Thrapsalo (Θράψαλο) is quite similar to kalamari, but not as tasty. You can tell which is which by their colour: kalamari is white, whereas thrapsalo is pinkish.