Three Kos Island Local Recipes
Like all Greek islands, Kos counts on local produce in its cuisine. As a result, there will be plenty of olive oil, local herbs, honey, vegetables, and legumes in traditional dishes full of flavor.
There are many foreign influences in the Koan cuisine, as the island was under Roman rule from 200 BC until 395 AD, then it was a part of the Byzantine Empire until 1314 when the Knights Hospitaller occupied it until 1532. Ottoman rule lasted until 1921, when the Italians took over, remaining on the island until 1945 – although during WWII, the Nazis spent a brief time on the island till the British took over. Kos was finally annexed to Greece on March 7, 1948. With such a troubled history, thousands of years of its invaders' mercy, the cuisine adapted. It is Greek and Mediterranean, with some dishes like tomato spoon sweet (Glyko Tomataki) being the island's trademark.
Here are three local recipes you could try at home if you miss the island. When in Kos, do order these dishes if you see them on the menu in a taverna.
Strapatsada (also called kayianaas – scrambled eggs with tomatoes)
Strapatsada is a delicious and fully nutritious breakfast dish you could also serve for lunch with a side of seasonal salad.
Ingredients:
4 large eggs
3 ripe, firm tomatoes
1 large onion, finely chopped
salt and pepper to taste
3-4 tablespoon olive oil
fresh or dry oregano (optional)
Method:
Grate the tomatoes along the coarse side of a box grater.
Preheat the olive oil in a non-stick frying pan over medium heat and add the onion. Cook until the onion becomes translucent, often stirring to prevent browning.
Add the tomatoes. Cook them for 10-15 minutes, occasionally stirring to prevent burning, until all their liquid evaporates and all that is left is thick pulp.
Break the eggs in a bowl and beat them with a fork until the yolk incorporates fully into the albumen.
When the onion is ready, pour in the eggs and herbs (if using) and season with salt and pepper to taste. Stir all together with a wooden spatula and reduce the heat. Cook the eggs for 5-10 minutes until they reach the desired doneness.
Place on a plate and serve immediately, garnished with fresh herbs.
Glyko Tomataki (tomato spoon sweet)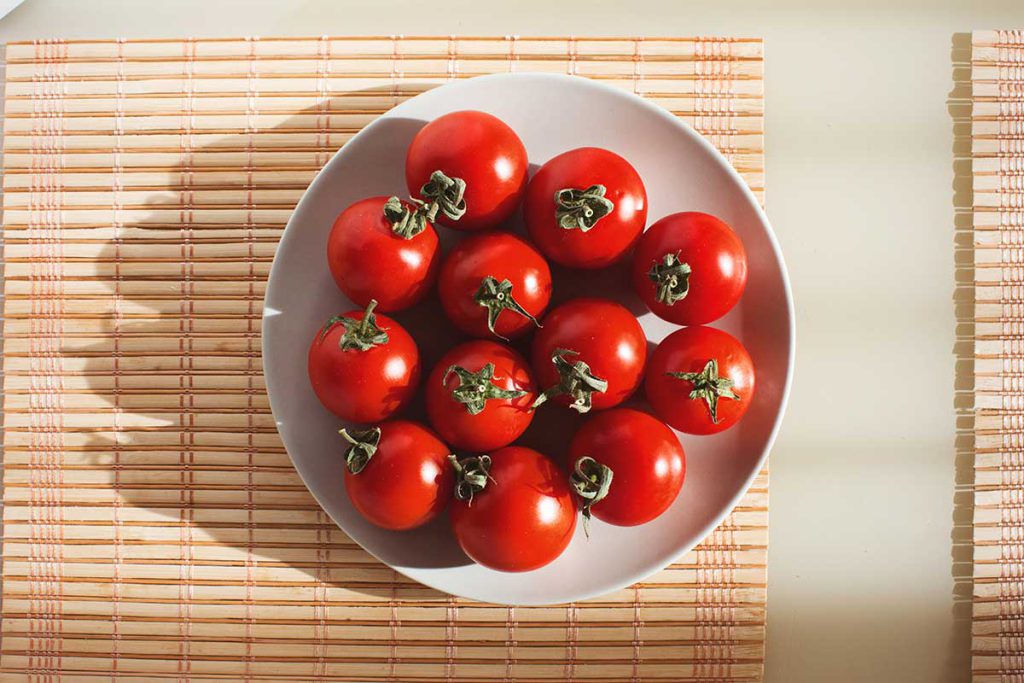 The trademark dessert of Kos, glyko tomataki is time-consuming to prepare but worth it. When on Kos, you can buy it in any supermarket. Try it in a taverna, too.
Ingredients:
25 plum tomatoes – ripe but firm
1 vanilla pod
1 l milk
250 g granulated sugar
2-3 tablespoons honey
25 cloves
25 almonds
250 ml water
juice from a lemon
Method:
Remove the stem from the tomatoes and carve a crisscross pattern on the bottom using a paring knife.
Bring a pot full of water to a boil, then add the tomatoes and boil for a couple of minutes to loosen the peel. Discard the water and submerge the tomatoes in ice water for five minutes.
Peel the tomatoes and remove the seeds through the bottom with a paring knife or a toothpick. Be careful: the tomatoes must remain whole.
Put the tomatoes in a bowl with the milk for 30-60 minutes.
Discard the milk through a colander and rinse the tomatoes. Set aside and allow them to dry or pat dry with kitchen towels.
Insert a clove and one almond in every tomato.
Place the tomatoes in a medium saucepan in circular layers on two levels. Add water, sugar, and vanilla, and bring to a boil. Reduce the heat to medium-low and cook for one hour, uncovered, until the liquid thickens.
Towards the end of cooking, add honey, and boil for ten more minutes.
Remove the tomato spoon sweet from the heat, add the lemon juice, and shake the pan. Allow the syrup to cool off for 6 to 12 hours before pouring the glyko tomataki into sterilized jars.
Maeria (cornmeal dessert with honey)
Maeria is usually a fasting dessert prepared with sugar instead of honey. It is quick to make, flavorful, and tasty. You will need a few simple ingredients and ten minutes of your time.
Ingredients:
100 grams corn flour
300 ml water
100 ml honey
1 shot ouzo
a handful of coarsely chopped walnuts
cinnamon to serve
Method:
Mix the corn flour, water, and honey in a non-stick skillet.
Place on the stove on low heat and bring to a boil, stirring continuously to prevent the mixture from forming lumps and avoid burning. Cook for five minutes until the mixture thickens.
Towards the end of cooking, add the ouzo, and keep on mixing to incorporate the drink well into your creamy maeria.
Remove from heat and serve in bowls, sprinkled with cinnamon, and topped with walnuts.
These are three traditional recipes from Kos Island. Keep on following us, and we will share more in the future.